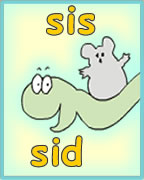 Message from Miz Katz N. Ratz, January 14, 2014:
At this time, I recommend the Alphabetti books only for older children -- 4.5 years old and older.

Why? Because the books start with letters that can be confusing to young children... namely., the letters d, b, g and p.
I am working on a complete revision of the books to make them appropriate for children of all ages. However, because I am also working on the phonics books and a revision of the website, etc., it will be quite a while before I can focus on the Alphabetti books. This is very sad for me because I would rather work on the Alphabetti books -- they are much more fun!

In the meantime, I am leaving the existing Alphabetti books up on the Internet for older children who can navigate past the letters d/b/g/p.

Original introductory text (with age amended):
These easy and fun books teach the "snake" letters of the alphabet: s, c, e, m, n, u, h. (See our article on alphabet shapes.) By the end of this series, children will know half the alphabet and will be able to read many words.
Age: 4 1/2 -- 6 years old. These books are for children who are just starting to read or for children who struggle with letter recognition.
Format: Downloadable e-books to read on-screen or print on your printer.
Activity sheets: Matching handwriting worksheets, coloring pages, flash cards and memory games are included for each book. (All for free!)
This book series is a work in progress. We are back in production on them (as of June 2009) and will be putting a new book out once a week.