Beginner Phonics Books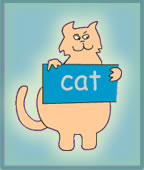 These easy (and free) books teach fluency in reading small, short-vowel words and develop instant-recognition of fifty of the most-common words in English.
Age: 4 - 7 years old. These books are for children who already know their alphabet. If a child struggles with letter recognition, use our Alphabetti books to resolve this.
Format: Downloadable e-books to read on-screen or print on your printer.
Activity sheets: Matching handwriting worksheets, word-search puzzles, flash cards and memory games are included for each book. (All for free!)
To download our free books, you must be a registered user. Click here to
register
for free, or click here
sample books
.
REVISED VERSION
Beginner Phonics Book One
TOTALLY revised (and now the official version).  Teaches short vowel "a" (hat, cat, am, etc.). (The old book is still available if you prefer, see below.)
Read more: REVISED Beginner Book 1