A Brief History
Progressive Phonics is the brain child of Miz Katz N Ratz, a writer-illustrator who grew up on both sides of the "pond" (half in America and half in England), and who chooses to spell "colour" as "color."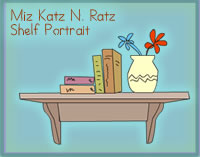 After testing the original materials at a nearby pre- and elementary school (thank you, Canyon View), Progressive Phonics made its debut in January 2006, when we released our first seven books on the Internet as a "work in progress."  Since then, hundred of thousands of books have been downloaded, and our materials are now being used in homes and schools around the world.

But even after completing "Version One" of the books, a lot more development was needed.  To help fund this project, we charged for our downloadable e-books between March 2007 and June 2009.

It was always our vision to provide our books on the Internet for free, and we are extremely fortunate to now have a sponsor to bank-roll the development costs to complete Versions Two and Three of our program—which means, dear readers, that you can download for free again!
This brief history would not be complete without a big acknowledgment to the people who purchased our materials over the last two years.  These generous people helped keep the project afloat, and we are eternally grateful.  You guys rock!

We invite you to comment in the Forums.  But be kind to Miz Katz N Ratz: she can't help it if she's hairy.