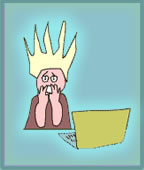 Problem viewing or printing our books?
The books are blank?  The books won't print? Don't worry -- this is easy to fix.
First, a mini-tutorial:  Our books are "pdf" files – pdf stands for "portable document format."   To open, read and print our books, you need TWO programs: An internet browser and a pdf reader.  The browser lets you surf the web and download our books (pdf-files) onto your computer.  Then the browser "calls" your computer's pdf-reader-program into action.  The pdf reader now "opens" the book (pdf file), displays the content inside our books, and lets you print the content.
Problem is, the programs don't always work as expected.  Here are the EASIEST solutions to these problems:
---
Upgrade your browser to the latest version.
 This handles almost all problems viewing/printing our books.  And it's free.   
---
Switch from Internet Explorer to Firefox (Windows only)
We like Firefox because it is faster and seems to have less problems than Internet Explorer
Downloading Firefox is FREE and takes only a few minutes to set up.  Just download it onto your desktop (or anyother area of your computer), close all other programs running, and then click on the Firefox file.
Note: When you install Firefox, you don't have to get rid of Internet Explorer.  Just choose which one you want as your default browser (we recommend Firefox).  You can even run both browsers at the same time if you want to see what web sites look like in different browsers.
---
If you're still having a problem, try this:  (Windows and Mac)

Use your browser to download the book and save it onto your desktop (or other area of your comnputer). 
Then right-click the file or file icon.  This should give you a choice of one or more pdf-readers to open the book (e.g. Foxit, Adobe, Preview, Stuffit Expander or another pdf-reader).
Select the pdf-reader, and the book will automatically open.
---
Download a new pdf-reader. (Windows only)
 Foxit is our all-time favorite for Windows is "Foxit", which is super-fast, free and takes only a couple of minutes to install.  This pdf reader also supports many Asian languages.
---
 Download the Adobe pdf-reader. (Mac only)
Now make it your default pdf reader:
Go to harddisk/library/internet plug-ins
Double click on "AdobePDFViewer.plugin"
It should prompt you to select an application to open it.
Browse and select Adobe Reader.
It should then ask you if you would like to make Adobe Reader the default application to open pdf files, select yes.
---
 If that doesn' work, disable the Adobe reader.  (Mac only)
Go into the Library folder on your hard drive (not your user Library, the central one) and open the folder called Internet Plug-Ins.
Remove AdobePDFViewer.plugin.
Relaunch Safari.
PDFs will now open directly in Safari. If you specifically want to access the full Preview functionality just right click anywhere on the page and choose "Open with Preview.app" from the contextual menu.
---
 If all else fails, try a completely different pdf-reader (Mac only)

We haven't tried it, but it looks good.