Phonics books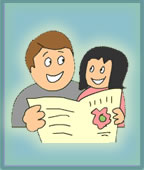 Our phonics books make it easier (and more fun!) to teach children how to read. Better still, ANYONE can use them, which makes it ideal for parents, home-schooling, teacher assistants, volunteers and teachers who need more resources.
– Concurrent reading and handwriting instruction.
– Teaches phonics AND the important sight-words that break phonics rules.
– Teaches the rest of the information that children need to know to become independent readers (plurals, contractions, syllables and the basics of punctuation—who can read English without those?).
| | |
| --- | --- |
|   | Beginner Phonics Books:  For children who already know their alphabet, these books teach the five short vowels (a, e, i, o and u) as well as some of the variations of the pronunciation of the letters "s" and "f"  (as in is, his, as, and of).  |
|   |  Intermediate Phonics Books:  These books teach long vowels and the consonant blends and digraphs. |
|   | Advanced Phonics Books:  These books teach advanced long vowels, syllables, basic punctuation, silent letters, R-controlled vowels, W-controlled vowels, L-controlled vowels, basic homonyms and the common words that break these phonics rules.  For a full overview of the subjects taught in this book series, please see our Guide to the Advanced Books. |
|   |   |
|   |   |
|   |   |